A HEALTHY HEART STORY AND HOW TO NATRUALLY DROP YOUR BLOOD PRESSURE
I was admitted into the hospital for dizziness, low blood pressure and pulse rate. I was taking three different blood pressure medications. They said I had damage to my heart and were talking about putting in a pacemaker. My husband is a patient of Dr. Donna's and suggested I go to see her and see if she could help improve my overall health. Dr. Donna started by hearing my history of blood pressure and she recommended taking supplementation to nourish my body. At the same time she gave me a schedule to use the Pulsating Electro Magnetic Field therapy. (PEMF). She explained by exercising the cells in my body the PEMF can help just about any condition. After a few sessions of PEMF and taking my supplements my medical Doctor said I was improving. He originally wanted to put a pacemaker in and said we might not have to. He said since I was improving I wouldn't have to see him until three months. The same scenario – three months I went to see my MD and he released me to a six month follow up. Finally he released me to a 1-year follow-up and no more discussion of a pacemaker. I am off blood pressure medications, my A1C is normal, body pains are gone and I have more energy. Dr. Donna and staff are EXCELLENT! Dr. Donna is willing to take the time to talk about what is going on with my body and help me understand how the treatments affect me. Dr. Donna and her staff are always available for questions and always greeted me with a smile. I highly recommend Dr. Donna, she goes out of her way to help and make sure all of her patients are doing what it takes to remain healthy.
-RLM -

---


PATIENT GIVES REVEALING TESTIMONY ABOUT CONDITION THAT HAS BAFFLED SEVERAL MD's
A Very Satisfied Patient SW
I am writing to express my thoughts and extremely sincere gratitude for help I received from "Klucharich Whole Body Healing" in Florence, SC. In 2018, I was severely injured from a gunshot wound to the head and a vehicle accident while working. The injuries I sustained left me partially paralyzed on the right side where my ability to stand and walk were inhibited. I underwent major brain surgery to repair damage and pressure from two concussions sustained from the vehicle accident. In the following months, I spent time undergoing extensive cognitive and physical rehab at various entities. I progressed tremendously and regained my ability to walk, drive and even return to full time work duties with subtle limitations after much hard work. Regardless, I still suffered from discomfort and other lasting effects with my right side. It was suggested to me that I try chiropractic care and in 2021 I met with an started treatment with Dr. Donna Klucharich. Sh was confident that she could help me with my specific issues and since my first session with her, I have made even more of a recovery. Discomfort and sensations I once had are little to none at this point. Over the past year, I have attended weekly sessions with Dr. Donna and her staff receiving chiropractic and electrical stimulations care. I was introduced to Pulsating Electro Magnetic Field Therapy (PEMF) and it has made a tremendous difference in my discomfort levels along with my ability to walk in a more normal fashion has improved. The treatment I have received from the clinic has helped me get to a better place both physically and spiritually. The environment is uplifting and encouraging. Everyone is involved in your individual needs and they strive to help resolve or correct those needs. I wanted to advise you of my complete satisfaction with care I received. I have received professional, courteous and friendly treatment. There are not enough words to describe the excellent treatment program that was developed and currently in place by her and staff. With everyone's combined efforts, I was able to get well on the way to recovery after a rather serious injury and emotional damage. I can't say enough about the quality of care I received. Thank you so much for hiring the staff and training them to be even better. Without the entire staff and Dr. Donna at Klucharich Whole Body Healing for any of your therapy needs. I promise you won't be disappointed. It is a pleasure to be cared for by people who really care. They are outstanding in every respect. According to the "doctor's that have treated me, I'll more than likely need lifelong physical therapy to keep agile and to maintain a lifestyle I am accustomed to having. So far, the ongoing treatment outlined for me keeps me going and I feel will only get better based on the results seen thus far. Though I have physical setbacks now and then, I've noticed I'm getting stronger and have the energy with the mental fortitude to keep going.
"Thank you for the excellent treatment you gave me. Not only is the treatment excellent, but the atmosphere of kindness and joy ministered to my spirit has helped me heal emotionally as well. "
---
Brian's condition was healed in a shorter time using Chiropractic and PEMF therapy
I started seeing Dr. Klucharich last year after a car accident to get better relief to my lower back. I developed better posture and less pain to my lower back. After a plan was implemented to fit my rigorous work schedule I started to feel so much better. Then out of the blue one morning, I woke up feeling rather different. It was about 4 a.m. and I looked in the mirror and realized I could not blink with my right eye or smile with the right side of my face. I immediately thought I was having a stroke. After a 6 a.m. ER visit, a stroke was ruled out. I was diagnosed with Bell's Palsy. What a mental hit to my self esteem. But I visited Dr. Klucharich with my diagnoses one week after my ER visit to let her see the person I did not recognize in the mirror anymore. I told her I felt like 2-Face – from Batman. But she reassured me it was going to be okay. We both said a prayer, hugged and came up with a treatment plan to correct the issue with the right side of my face being paralyzed.
I was given an option of using the Pulsating Electro Magnetic Field (PEMF). I said "I'm willing to see what happens". I had been doing acupuncture therapy, hot and cold therapy on my face as well as using an eye patch to help with my right eye's inability to close at all for a week. Dr. Klucharich said no worries; "we" will get through this. Welllll, here it is two weeks after seeing the Best Chiropractor, I was fortunate to have her in my life. My face was back to NORMAL. I had my SMILE back, I could WINK, I could smile and not feel any shame because the right side wasn't clamped down anymore from the Bell's Palsy. Here are the before, during and after photos.
The staff took great care of me on every visit and they supported me so much during this ordeal. I never knew how contagious a smile was until I couldn't make a smile without difficulties.
I tell all my friends what I did to get a speedy recovery and they are still amazed. I was told by my coworkers as well as the ER physician that I should be smiling in two to six months. But I said that's too long and that's why I WAS VERY PROACTIVE with getting results much faster. And I am so glad Dr. Klucharich helped me with this fast turn around. Two weeks later and I'M BACK!!!!
---
My name is Matt Perron and even though I'm in my mid 30's I still lead a fairly athletic lifestyle playing on 5 different competitive sports teams. I first went to see Dr. Donna at Klucharich Whole Body Healing. I had wrenched my knee playing volleyball and had actually been limping for some time. I didn't want to visit a doctor hoping it would heal on its own. My dad was seeing Dr. Donna and my mother had even been taking her dog to see Dr. Donna for PEMF treatments and the dog loved it. I went in one day and after one 20 minute treatment my knee pain was COMPLETELY GONE. Not lessened, not dampened but gone entirely and it has never bothered me since.
By early the next year I had over exerted my shoulder. Full of soreness I once again found my way to Dr. Donna's PEMF machine and found my soreness alleviated. What's surprising about that is by continuing the same activity, with the same amount of overzealous punishment on my shoulder; I have yet to re-experience any soreness in the area.
As amazing as those two instances sound, this is truly the icing on the cake, the hands down, no kidding, undeniable proof of why I will always return. I once again found my self on a volleyball court. After jumping to block a spike when I returned to the floor my ankle decided to cease being an ankle. After crawling off the court and realizing something was indeed wrong I went home to put ice on it hoping it was a sprain. After a couple of hours it was swollen to never before seen proportions and was turning purple and cold. I realized that I had to go to the Emergency Room. After a negative x-ray I was given a prescription of pain killers and told to elevate and ice. They also recommended me seeing an Orthopedist. Two days later I saw the Orthopedist of the South Carolina Gamecocks. By this time the swelling had continued and huge blisters were popping out everywhere on my foot and ankle. He performed more x-rays and a sonogram looking for blood clots and was stupefied. He said he had never seen anything like it that wasn't a break and several other specialists came in to look at it all mystified. I was given a boot and told to elevate and ice until it healed. By that evening I was in excruciating pain, the blisters were getting worse and I could find no comfort. I went to a different emergency room where they ran a multitude of blood tests including one for gangrene and did a cat scan. Still no one could explain anything wrong with it even though many doctors kept coming in to witness the mysterious foot and ankle.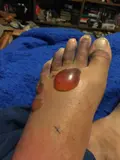 A Few Weeks Later

I was given more painkillers and told to elevate and ice and to stay in bed for two weeks. After two weeks the blisters had popped but I was still in pain and couldn't put weight on it at all. I returned to the Orthopedist to receive an MRI and get more medicine. Since I was not cleared for work I spent the next two weeks at Dr. Donna's Office. After just a couple treatments of the PEMF (Pulsating Electro Magnetic Field) I was able to put weight on it and able to walk in the boot. After two weeks of PEMF and some homeopathic medicine for the blisters I was able to walk and return to work. Having returned to the orthopedist after the two weeks of PEMF treatment, his response was that foras bad of a sprain as he's ever seen he was amazed at my progress and there is no way that I should have the mobility that I do. I'm 100% positive that the treatments at Dr. Donna's saved me no less than two weeks to a month of recovery time.
I can not stress enough how magical this treatment is, and I don't use the word magic lightly. In my opinion the PEMF Therapy appears to be leaps and bounds ahead of other treatments I have or would have received. Klucharich Whole Body Healing (KWBH) is an absolutely comfortable and amazing environment; truly they are "Chiropractic And A Whole Lot More. If it's not actually Dr. Donna working on you there is nothing to fear. Steve and Lou follow Dr. Donna's instructions and are equally as impressive when applying the delivery of the PEMF paddles of magnetic pulse relief. As my ankle was healing I was developing nerve pain in my foot and while the Doctors were more than willing to dole me out some medication for it, KWBH re-situated the paddles and opened the nerve pathways to naturally reduce the pain. The entire staff is wonderful and was always willing to go out of their way to accommodate any of my needs. They work with you on finding what will work the best to eliminate your problem rather than just looking to relieve symptoms through prescribing pain medications. In case I haven't accurately conveyed my feelings, I would 100% recommend the all services offered at Dr. Donna's office. Coming from a skeptic who at one point may have laughed off the PEMF treatment and homeopathic medicine, try it once and I promise you'll wonder why you waited so long.

Mention this article when you call our office & receive a complimentary 10 minute test drive on this revolutionary, life changing, state of the art technology! (Feeling Is Believing)

Broken Back - Non Surgical Healing and Repair
UNBELIEVABLE TRUE STORY.
Below are (before and after) X-ray pictures of our patient Carol who was trampled by a new horse, where she broke her lower thoracic vertebrae. Carol has fully approved for us to use her info and pictures so others can learn about what our state of the art, new technology called PEMF (Pulsating Electro Magnetic Field) therapy can do.
Carol is a 76 years old active lady that was brought to our office immediately following the accident by her daughter who is a patient of ours. At the time Carol recently bought a new (excitable) horse. One day while in the horses stall with the gate open Carol turned her back to the horse to pick up something off the ground and the horse ran through the open stall door, thus trampling Carol.
Carol came to our office the very next day. After x-rays it was clear that she had a fractured vertebrae. (See picture below on Left where arrow is locating a crushed spot at T12. After only 2 sessions on our PEMF Carol was already feeling good enough to stop any OTC pain meds. After consistent 60 minute treatment for only 16 hours Carol was back to throwing hay with her pitch fork, cleaning out stalls, brushing horses, etc.
Carol never saw any other doctor and did not have to under go risky surgery, and painful rehabilitation, not to mention the expense of either of these. Instead she simply visited our office and AFTER ONLY 16 HOURS she is now back doing the things she enjoys.
In Carols own words..........
I can not say enough about Dr. Donna and her staff. The moment I staggered in, they knew what to do. Once the X-rays were taken Dr. Donna told me that chiropractic adjustments were not the way to go at this time, so she suggested I use the PEMF. Once we found the right position for me to receive the therapy, I felt relief almost right away. It was a gentle pulsing sensation that never reproduced any pain. As I got better we turned up the volume and my condition continued to improve.
What a blessing it was to come to a "Natural Healing Center" that has a non surgical state of the art technology that can actually heal cells and heals bones. I still can't believe how great I feel and how little it took in both time and money. I have now started receiving Chiropractic adjustments to help my nervous system and other areas where I am in need. Thank you soooo much Dr. Donna and Klucharich Whole Body Healing.

Upper respiratory testimony
"Dr Donna told me that she had a new technology called PEMF (Pulsating Electro Magnetic Field Therapy) that worked on a cellular level and that it could help my breathing issues. I have had chronic bronchial issues for years and aften have to use a breathing machine. When I tried the PEMF I tried it and was amazed. I felt a big difference as soon as I was done with my first session. I'm now coming back weekly for breathing treatments and it is wonderful. Can you imagine breathing relief at a chiropractic office! You have to try this it it awesome. "
Linda

Arthritis and inflammation in the knee testimony
"I was coming to see Dr. Donna for a back issue, and mentioned that my left knee has been bothering me for years. She suggested a new technology called PEMF that worked on a cellular level and that it could help my knee pain and inflammation. I was skeptical at first, but was amazed at the improvement I made in just one 30 min treatment. I am now receiving treatment on my back and knee and can now play golf pain free"
Chris

Frozen shoulder testimony
"I spoke with Dr. Donna about my shoulder which has serious range of motion problems. My MD told me it was called a frozen shoulder and if I didn't get it unfrozen he would have to unfreeze it under anesthesia. "Dr Donna told me that she had a new technology called PEMF that worked on a cellular level and that it could unfreeze my shoulder. I committed to a series of treatments and now have full range of motion and strength back in my left shoulder. I would highly recommend PEMF for anyone suffering from ROM issues in any joint."
Lynn

Carpel Tunnel testimony
"My wife and mother in law were coming to see Dr Donna for neck and back problems. Dr. Donna told my wife that she had a great protocol for Carpal Tunnel relief. I work with my hands so I was considering surgery because my MD said that was my only option. I was slated for surgery in 6 weeks. Dr. Donna used a combination of radial adjustments, cold laser therapy and PEMF. After the first treatment I was feeling better. I continued on for several weeks, and by 6 weeks I was completely out of symptoms. Best of all I am an artist and back at work again without surgery. To anyone out there with Carpal Tunnel, consider Dr. Donna before you agree to surgery."
Jim

Hip / Leg weakness – In Wheel Chair testimony
"I came to Dr. Donna using a cane and wheel chair. I had Hip surgery recently and while in hospital developed a staff infection, which kept me there 3 months. When I got out I went to physical therapy for 6 months and another 6 months on my own. My legs continued to lose strength and I had so much pain. I prayed to God to what to do and I believe He reminded me that Dr Donna helped me in the past. She provided Chiropractic adjustments and introduced me to my favorite cellular repair machine called PEMF (Pulsating Electro Magnetic Field Therapy) The PEMF has not only strengthen my hip but it has given me more energy and better overall cellular health. Now I am back to work and doing so ouch better. Please call Dr. Donna and Klucharich Whole Body Healing, if they help me get out of a wheel chair they can help you too.
Ruth

Foot Pain & Stiffness – testimony
I work at McLeod Hospital and am on my feet all day. A friend of mine told me about Klucharich Whole Body Healing. Beacause my foot was my only issue, I asked why a Chiropractor? She explained how Klucharich Whole Body Healing did Chiropractic but much more that traditional Chiropractors. I met Dr. Donna and she introduced me to a new technology called PEMF (Pulsating Electro Magnetic Field Therapy). After my first 30 minute treatment my pain level went from a pain level 8 to a 1, and my stiffness was greatly improved. I never would have thought of going to a chiropractor for foot pain and stiffness, but I am so glad I did.
-Jennifer

Abnormal Prostate Function and Test Results – testimony
Recently I have had been experiencing daily problems with my bathroom visits associated with my prostate. Lab testing confirmed prostate problems. My wife was seeing Dr. Donna at Klucharich Whole Body Healing. We were looking for natural alternative to the recommendations from our MD. I met with Dr. Donna and she talked to me about a new technology called PEMF (Pulsating Electro Magnetic Field Therapy). Over the first 3 treatments I began noticing positive charges. After 7 treatments I was almost back to normal. As I continued using the PEMF technology I continued to improve and surprisingly passed kidneys stones on 3 different occasions. At first I thought I just passed a stone somehow, but after I passed more stones on 2 other times I knew it was the PEMF. Amazing how I went to a Chiropractic office and received improvement for my prostate and kidneys. You have to try the PEMF it is awesome.
-John William